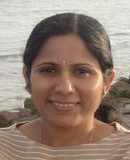 Nirooshitha Sethuram is a Certified Svaroopa® Yoga Teacher (CSYT) and an Embodyment® Yoga Therapist. She was brought up in a yogic culture but continued her banking career for 15 years, until she found Svaroopa® Yoga. Having taken classes for several years gave her a new focus in her life and she completed her Svaroopa® Yoga teacher training. She brings a lot of enthusiasm and passion to her study of Yoga and to her teaching. She is delighted to share the healing, personal transformation and illumination of this yogic path with you.
Contact Nirooshitha by email, nirooshi@marlboroughyoga.com, or by phone 508.887.5495
Annette discovered Svaroopa yoga in 2004. She found that being supported with props allowed her to release in the poses, and after just one class she was able to do poses that she was unable to do before. As she continued practicing Svaroopa yoga her chronic back and knee pain went away and she began to feel calmer and more centered. Annette has completed over 700 hours of teacher training through Svaroopa Yoga Foundation, is a Certified Svaroopa Teacher (CSYT), and is a certified Embodyment Yoga Therapist.
Contact Annette by email, azucco58@comcast.net, or by phone 508.353.5816
Yogeshwari (Lissa) Fountain's love of both asana and meditation infuses her teaching with clarity, compassion and joy. She discovered Svaroopa® Yoga's principle of tailbone release after years as a professional dancer. The yoga was the key to healing years of a misaligned and very tight spine, often associated with rigorous dance and exercise. It was also the revelation of the bliss of her own being that propelled her to a deep and committed path of personal practice and teaching others. Yogeshwari is a Leading Svaroopa® Yoga and Meditation teacher, as well as an assistant teacher at Svaroopa® Vidya Ashram. For 20 years, she has been teaching yoga and meditation classes and offering Yoga Therapy throughout Metro-west Boston. In 2008 she was invited to become a national teacher for Svaroopa®Yoga and Meditation, and has been enjoying leading Weekend Workshops for yoga studios across the country ever since.
Caroline Kutil began her yoga practice in 1970 at Indiana University. She has been a long-time student of meditation and yoga and became a yoga teacher in 1975. She has three yoga teacher certifications, most recently in Svaroopa® Yoga in 1998, and is also an Embodyment® Yoga Therapist. Caroline taught at Earthsong Yoga in Marlborough from 1996-2008 before opening her own studio with Sandy Courtney. She also taught extensively in the Metrowest area.
After many years of teaching yoga Caroline has relocated to Mt. Pleasant, SC in September 2017. She plans to return to offer special weekend classes from time to time. These classes will be posted on the Marlborough Yoga website in her brochure and under Special Events.